Losing a significant amount of weight is a major personal accomplishment that often elicits compliments from friends impressed with your commitment and fortitude. While their praise feels good, you might remain self-conscious about your body because excess skin — stretched to the point it can't shrink back to your new shape — is draped over your waist like a deflated balloon.
Dr. Ruff, Dr. Hannan, and Dr. Patrick are experienced in performing post‐bariatric surgery body contouring procedures at our Washington, D.C. practice. Request a consultation online to meet with our surgeons to learn about the options available, or call our office at 202-785-4187 and a member of our knowledgeable staff will schedule a consultation.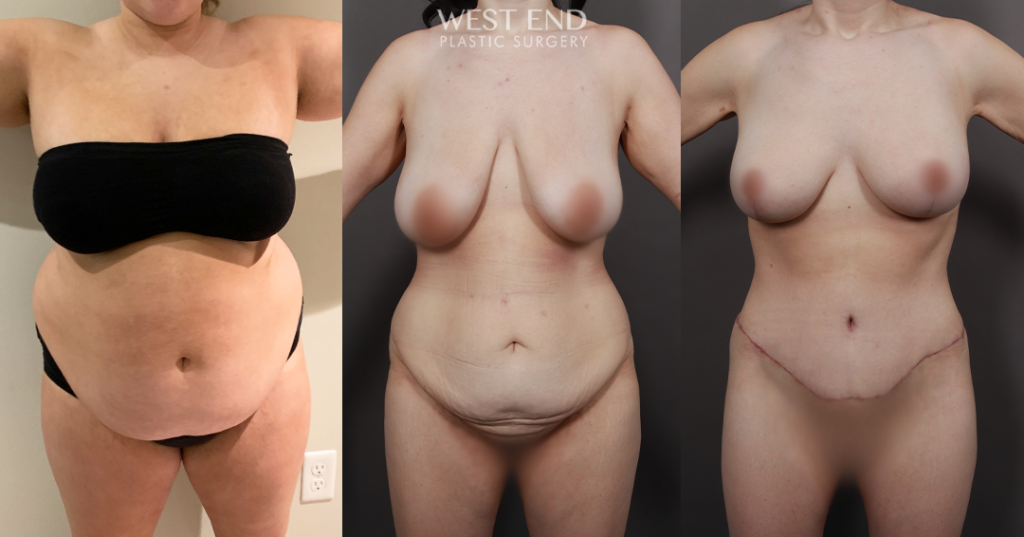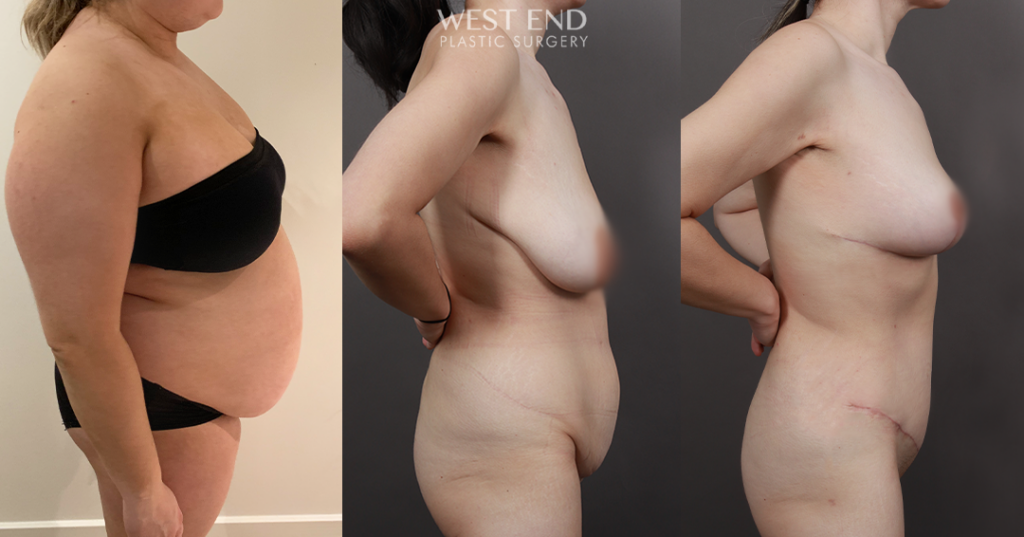 This patient lost over 100 pounds after having Gastric Sleeve Surgery. After weight loss, Dr. Patrick and Dr. Hannan performed a Tummy Tuck, Breast Lift, Liposuction, and Renuvion Skin Tightening. (Left Photo: before weight loss, Middle Photo: after weight loss, Right Photo: 2 months after procedures by Dr. Hannan and Dr. Patrick)
Consultation for Post Weight Loss:
The video below shows a typical post-weight loss consultation with Dr. Paul Ruff. The patient came in for a consultation regarding body contouring to remove excess skin and fat after losing over 200 pounds.
Body Contouring Procedures
An upper arm lift eliminates the "waving" on the underside of the upper arm of loose tissue and skin left behind after weight loss or natural aging. The result is a tighter, more youthful upper arm contour that will have you going sleeveless again!
A lower body lift is the answer to excess fat and skin on the lower body, buttocks, and thighs that occurs with normal aging as well as after massive weight loss. This hanging skin and tissue restricts movement and irritates the skin. Once the excess skin and fat are eliminated and the remaining tissues tightened, you'll enjoy a much more attractive body contour as well as an increased comfort engaging in physical activities — not to mention fitting into those clothes you worked so hard to get into! Although often performed as a standalone procedure, it can also be done at the same time as a tummy tuck.
A thigh lift focuses on eliminating the sagging of the inner thighs, which occurs both with massive weight loss and normal aging. Following liposuction, tightening of the underlying structure is performed, followed by excising the extra skin. Both inner and outer thighs can be treated with a thigh lift.
This procedure eliminates excess, sagging skin on the arms, legs, trunk, or belly that resulted from significant weight loss, aging, or pregnancy. It's often performed as a secondary procedure several years after initial post-bariatric procedures, as the skin, accustomed to being stretched to accommodate a larger body, can relax a bit over time, creating sagging.
We're as thrilled with our patients' results as they are. Check out our before-and-after photo gallery and see for yourself the kind of work our talented surgeons do.
Part 1 & 2: Post Weight Loss Video by Dr. Paul Ruff:
During the two videos below, Dr. Ruff is performing a Circumferential Torsoplasty with an Auto-Buttock Augmentation, Liposuction, and Renuvion Skin Tightening of the mid-back and thighs. The patient had a massive weight loss of 200 pounds and wanted to remove the excess sagging skin and fat.
Post Weight Loss: Post-Op Appointments with Dr. Ruff:
The video below shows what to expect at your 1 week, 1 month, and 3-month Torsoplasty post-operative appointments. Dr. Ruff performed body contouring to remove redundant skin and fat after a massive weight loss of over 200 lbs. More specifically, he performed a Circumferential Torsoplasty with Liposuction and Renuvion Skin Tightening of the chest, axilla, flanks, abdomen, and thighs.