When diet and exercise do not give you the shape and contour you want for certain areas of your body, you can surgically enhance those areas with body implants. Implants can be used in areas such as the calves, the biceps, the buttocks, or the pectorals. In some cases, body implants are used to correct congenital and physical deformities caused by conditions such as polio, spina bifida, and Poland's Syndrome that affect muscle growth.
Calf implants are used to correct deficiencies in muscle tone and definition, add bulk, or create anatomical balance. With bicep implants, the upper arm area is given muscle definition and increased mass and fullness. A buttock implant is used primarily by women to enhance the appearance, size, and definition of the gluteal muscles. A pectoral implant is appropriate for men who want to shape, enlarge, or firm chest muscles that have not responded to weight-lifting exercises. Working with Dr. Paul G. Ruff IV, M.D., F.A.C.S., or any of our board-certified plastic surgeons at West End Plastic Surgery, you can decide if implant surgery is right for you and be assured of a safe and pleasing outcome.
Pectoral Implants, VASER Liposuction & Renuvion Video:
Are You A Good Candidate for Body Implants?
If you are in good health and have tried to enhance your muscle mass and definition through weight lifting exercise with no success, you may be an ideal candidate for body implant surgery. Dr. Ruff the team at West End Plastic Surgery will discuss which procedure is right for you, outline the limitations of the procedures, and make sure you achieve the results you desire.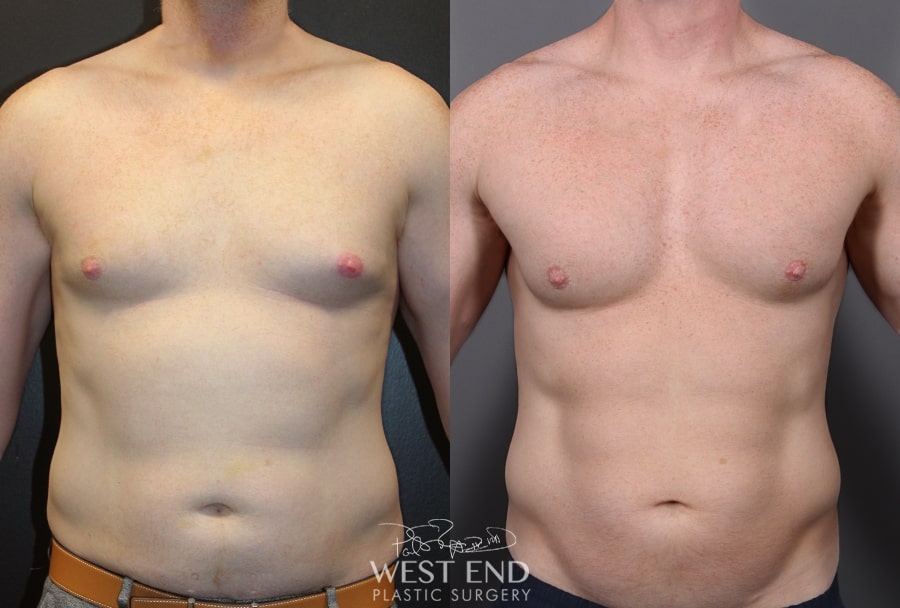 We're as thrilled with our patients' results as they are. Check out our before-and-after photo gallery and see for yourself the kind of work our talented surgeons do.
Meeting With Your Surgeon
Prior to scheduling your surgery, you will meet at length with your surgeon and their team. You will have your body evaluated and will discuss how you want your body to look after the procedure. With the guidance of your surgeon, you will decide which type of body implant is right for you and the size, shape, and position of your implant.
Your surgeon and our team at West End Plastic Surgery will:
Review the various body implant options with you
Clearly discuss the potential risks of the procedure
Outline in detail how the surgery is performed and what you can expect before, during, and after the procedure
Provide detailed cost and payment information
Discuss with you the current FDA regulations governing the use of implants
Answer all your questions
You will be asked to provide:
Details about your medical history
A list of all medication you currently take, including over the counter medications such as aspirin, vitamins, and herbal supplements
Information regarding your tobacco and alcohol use
How Is The Body Implants Procedure Performed?
Your Body Implant procedure will be performed in our state of the art surgical suite or at one of the area hospitals where our surgeons are privileged.
At West End Plastic Surgery, we are dedicated to ensuring your complete comfort during and after the procedure. The surgery generally takes one to two hours to complete and is performed either under general anesthesia or local anesthesia with sedation. The type of anesthesia used and the length of the surgery depend on the type of implant procedure being performed. The type of anesthesia used and the length of your surgery are discussed with you during your initial consultation.
Body implant surgery is generally performed using an endoscope, a very thin tube with a small camera on the end that guides the doctor through the body with a great deal of precision. Once a small incision (usually no more than an inch) is made near the area to receive the implant, the doctor uses the endoscope to insert the implant in the desired location. Implants are usually made of a solid silicone that is a soft and flexible material. Occasionally, fat deposits may be used instead of silicone implants.
The implant may be stitched into place or held by your overlying muscle structure, depending on the procedure and your individual anatomy. Sutures are used to close the incision and occasionally temporary drain tubes are inserted to help remove excess blood and fluid. The incision is covered with gauze dressings.
What To Expect After Your Surgery
| | |
| --- | --- |
| Shower or Bath | Day After Surgery |
| Back to Work | One to Two Weeks After Surgery |
| Driving | Within a Week After Surgery |
| Stitches Removed | Seven to Ten Days After Surgery |
| Strenuous Activity | One Month After Surgery |
| Contact Sports | Eight Weeks After Surgery |
| Fading of Scars | Several Months to One Year |
Immediately After Your Surgery
In most cases, you will be ready to go home shortly after the procedure. Because you may be a bit sleepy after the anesthesia and will experience soreness in the area of your incision, it is important for someone to drive you home after your surgery.
The First 24 to 48 Hours After Your Surgery
During the first 24 to 48 hours after your procedure, you may feel tired from the anesthesia and sore from the surgery. The doctor will prescribe pain medication to alleviate much of the discomfort. Your discomfort level will improve rapidly after the first two days. Because most body implant surgery is performed endoscopically, the size of the incision is usually less than an inch and there is very little bleeding.
If no drains were used during the surgery, you can take a shower or bath as soon as you feel comfortable doing so, being careful not to get the bandages covering your incisions overly wet. If drains were used, you can shower or bathe as soon as the drains are removed, usually at your post-operative doctor's visit two to three days after surgery.
The First Two Weeks After Surgery
You will notice a marked improvement in your discomfort level during the first week after your surgery and you can most likely return to work within a week of your procedure.
Any bruising or swelling you experience will usually disappear in about a week.
Stitches, if not dissolvable, will be removed seven to ten days after surgery.
Avoid heavy lifting and straining for at least two weeks and avoid contact sports for at least eight weeks.
When Can I Resume Normal Routines After Body Implants?
Everyone heals at different rates and you are the best judge of when you are ready for certain activities, but the following are general guidelines:
You can most likely return to work or school within one to two weeks of your procedure.
You can resume driving as soon as you experience no pain when you turn the steering wheel or use the brakes.
Strenuous exercise can begin in about four weeks after surgery. Our patients are encouraged to plan an exercise program and discuss it with the staff prior to resuming exercise.
The scars caused by the surgery should be protected from sunlight for at least a year after surgery.
Things To Be Aware Of After Your Surgery
The skin in the area of the surgery may appear shiny due to swelling. Within a few weeks, the swelling will disappear and the skin will return to a normal appearance.
Body implants are placed behind muscles and will, therefore, enlarge the bulk of those muscles, but it will not increase the strength or power of the muscle.
Movement of the muscle will not be limited or affected by the use of body implants.
What Are Possible Side Effects or Risks?
Like all surgical procedures, there are risks associated with body implant surgery. During your pre-surgery consultation with the doctor, your individual risks will be assessed and discussed and it will be determined if you are a good candidate for body implant surgery.
As with any surgery, you can help reduce the risks associated with your body implant procedure by closely following the instructions provided to you by the staff of West End Plastic Surgery. Dr. Ruff and his staff at West End Plastic Surgery will be with you every step of the way to ensure a safe and pleasing outcome.
Some possible side effects include:
Infection
Numbness
Implant Shifting
Changes in muscle asymmetry
Scars
How Long Will the Results of Your Body Implant Surgery Last?
Body implants can add bulk and volume to underdeveloped muscle areas. The results are permanent if silicone implants are used. If fat deposits are used, the procedure may need to be repeated periodically.
Are there other procedures that could be done along with body implant surgery to enhance the bulk and volume of the selected muscle area?
LipoSelection, a much gentler form of liposuction, can be used to remove fat in the area near your body implant. Dr. Ruff is one of the first specialists in the Washington, D.C. area certified to perform LipoSelection.
Will my insurance coverage pay for my body implant surgery?
Body implant surgery is considered a cosmetic treatment and, therefore, is not covered by your insurance. You are responsible for the full payment for your procedure. Cost and payment information will be discussed in detail with you during your initial consultation.
Are there alternatives to body implant surgery?
Options for improving the bulk, volume, and definition of your muscles include weight loss and exercise, especially toning and strengthening exercises. LipoSelection may also greatly enhance the look of certain areas of the body. Occasionally, fat transfer surgery is an option; this can be determined during your initial consultation.
If you're in the Washington, D.C. area and considering Body Implants, contact West End Plastic Surgery. Request a consultation online or call our office at 202-785-4187 to schedule a consultation.